Features

Parameter

Configuration

Apply
This tube filling sealing machine is suitable for:
super glue, glue 502, cyanoacrylate adhesive AB glue, gel glue, paint, space food, hot sauce, tomato sauce,hair color dying cream and other similar products.
This machine function is:
1. Automatic tube clamping and sealing
2. Automatic tube loading tunnel
3. Automatic tube logo marking
4. Automatic material feeding system (optional)
5. No tubes no fill and date printing
6. Can equipped nitrogen filling system, and tube lifting filling system.
7. As different material, we can also make sure no air inside products while filling.
8. Automatic counting and tube outlet
9. Can be customized for different tube and liquid
10. Can be equipped different tanks and mixers
This machine filling system is made for specially for aluminum tubes, easy clean and changes, it is a practical machine for aluminum and metal tube packaging, 24 hours runs none stops, hardly have machine break down once well adjusted.
Machine filling accuracy max is at 0.1-0.5g, from 3ml-250ml with different filling piston pump.
This machine is mechanical transmission, logo marking has only 0.3 degree error, normally in china market is 1 degree, you can choose how to fold your tubes by show your ideal pictures.
The sealing divider speed reaches 60 piece per min, compare to other usually company, we can really do 60 piece per min, not just design theory, machine running without noise.
This machine is guaranteed for one year and you can extent your guarantee easily by discuss with our sales.
Which you might be interested, under guaranteed, machine parts got broken by daily use, we will replace it once we are informed by free DHL.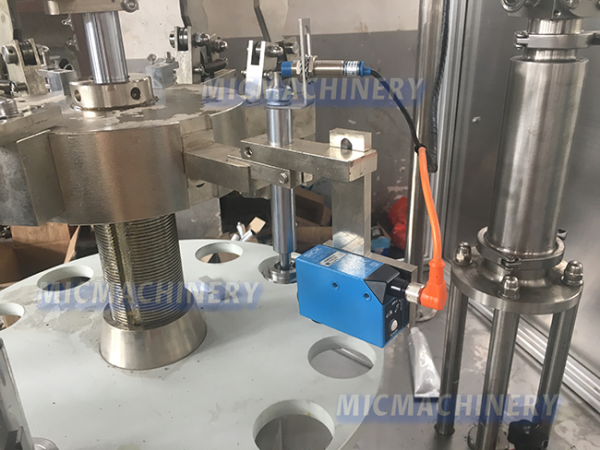 Sensor and Sensor rod
Main role is to sense the tube, and automatically turn the tube to ensure the standard.
Workflow: When the tube enters the machine bench, the sensor is automatic, adjusts the position of the pipe, and sends a signal to the next filling station. The internal program controls automatic filling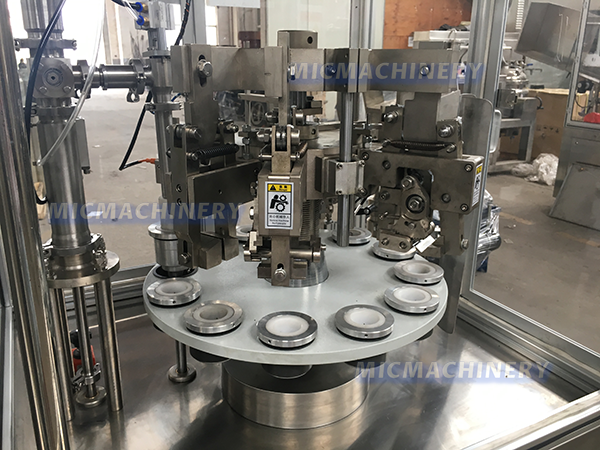 The main platform
The picture includes turntable, filling head,sensor,automatic flattened, fold-tube, cut and date-printed stations.This is clear function and easy to clean.
Main workflow: automatically goes on the tube. When the tube comes, the sensor automatically identifies it, sends a signal to the filling station, and starts the filling.After the filling, the tail of the pipe is flattened, folded, folded forward and back, date printed, and finally the pipe is topped out
We can customize this turntable, filling head, and so on.
If you want to know more models of filling machine, you can refer to the table below:
Model

L30

L30I

L45

L45I

L60

L60I

R30

R30I

R45

R60

Application

Pharmacy, cosmetic, food and chemical ,super glue, glue 502. etc.

Packing Type

Soft tube,aluminum tube,plastic tube. Etc

Speed

10-50

t/m

25-45

t/m

30-75

t/m

40-45

t/m

50-60

t/m

50-60

t/m

20-30

t/m

20-30

t/m

30-35

t/m

30-65

t/m

Filling Arrange

1-300ml,2-300ml,3-20ml,5-75ml, 15-75ml, 75-250ml,5-75ml/75-150ml /150-300ml

Power

1.1Kw

1.1kw

2.2Kw

2.2Kw

2.2Kw

2.2Kw

1.1kw

1.1Kw

4KW

5.5Kw

Size

1130*750*1680

mm

1500*700*1800

mm

1950*800*1850

mm

1950*800*1850

mm

1900*1400*2000

mm

1900*1400*2000

mm

1230*700*1400

mm

1230*700*1400

mm

1450*1050*1750

mm

1850*950*1980

mm

Weight

250Kg

300Kg

850Kg

800 Kg

850Kg

1200 Kg

250Kg

250Kg

475Kg




850Kg



In addition to,If you're looking for silicone tube filling machine,silicone sealant filling machine,silicone filling machine,silicone cartridge filling machine,it is a pleasure for you to visit our website anytime.
In short, we will try our best to provide you with satisfactory service,the following is our customer feedback.